Piano Professional
Since 1939, pianos have been in the blood of the Bean family. Dave Bean, son of his piano tuner father, carries on the fine tradition of excellence to this day.
Tuning, repairs, rebuilding, restoration, refinishing – you name it and Dave will see that you receive the highest quality service for your valued piano.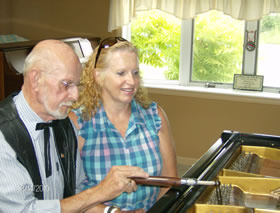 The shop is located in the quaint village of Honeoye Falls, NY – just 10 minutes south of Rochester. Right on the Main St. at the south end of the Village next to Dipper Dan ice cream parlor, Dave and his wife, Tammie, will welcome your phone call to arrange an appointment for servicing your piano.
Whether a full-sized grand piano or a smaller upright or spinet, Dave and Tammie will see that your valued instrument is treated with the professional care that it requires. A well cared for piano provides unlimited enjoyment for your whole family or organization.
If you need your piano serviced by a professional technician, please feel free to call DAVE BEAN SON OF A TUNER at 585-624-5110.